Children may struggle with daytime "accidents" and leaking, constipation with or without fecal leakage, bedwetting and many other conditions. Too often these problems cause significant emotional stress for both the child and the caregiver.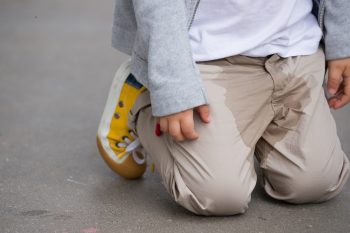 Pelvic health physiotherapists can provide relief for many of these childhood problems. Your pelvic health physiotherapist will work to understand the problems and provide a treatment plan based on the child's unique situation. Treatment may consist of dietary and behavioural modifications, external biofeedback therapy for the pelvic floor muscles, and education. Most importantly, treatment is fun and comfortable for both the child and the care giver.
Parents in Hamilton, Ontario looking for help with daytime "accidents", bedwetting and other pediatric pelvic health conditions are encouraged to contact Pure Pelvic Health to schedule a consultation with pelvic health physiotherapist Kaitlin McCarthy. Kaitlin is an experienced pelvic health physiotherapist with additional education in the treatment of pediatric conditions. As a Mom herself, Kaitlin can empathize with you and your child and is committed to helping you achieve success. To schedule a consultation please call Pure Pelvic Health (inside Physio In Motion) at 905-218-6556.
Posted in
Uncategorized