Pure Pelvic Health was established by registered physiotherapist and experienced pelvic health practitioner Danielle Van Andel. Danielle has a Bachelor of Science degree in Human Kinetics from the University of Guelph with an interest in Reproductive Biology. In 2008 she graduated from McMaster University with a Master of Science degree in Physiotherapy. Smiling photograph of Hamilton pelvic floor physiotherapist Danielle van Andel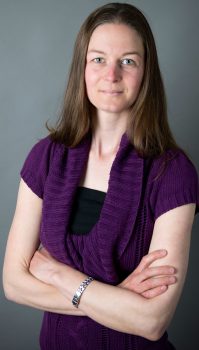 It was at McMaster that Danielle first became interested in Pelvic Health Physiotherapy. She took her first pelvic health course in
2010. After briefly working in a combined pelvic health and orthopedic practice, Danielle changed the focus of her career and accepted a position at The Center For Pelvic Health in Cambridge, ON in 2012. Here she participated in an intensive mentor ship program in Pelvic Health.
As a life long leaner Danielle continues to pursue additional education in the area of pelvic health care. She has participated in multiple international conferences including the First World Congress on Abdominal and Pelvic Pain in Amsterdam and the International Society for the Study of Women s Sexual Health Conference in San Diego. She has also participated in many courses and conferences on persistent/chronic pain including the NOI group s Explain Pain, and the International Spine and Pain Institute Conference in Minneapolis. Most recently she was Clinical Leader at The Centre for Pelvic Health. With considerable experience in the field of pelvic floor physiotherapy, Danielle is easily considered to be an expert in her field and has a wealth of knowledge to help you.
Danielle's goal for Pure Pelvic Health is to create a friendly, clean, comfortable, professional environment where clients are at ease. Treatment is always based on the current best practice and the latest available research in the field.
When not treating her clients, speaking with physicians, and participating in continuing education, Danielle can be found playing with her two children, gardening, hiking, horseback riding or reading.