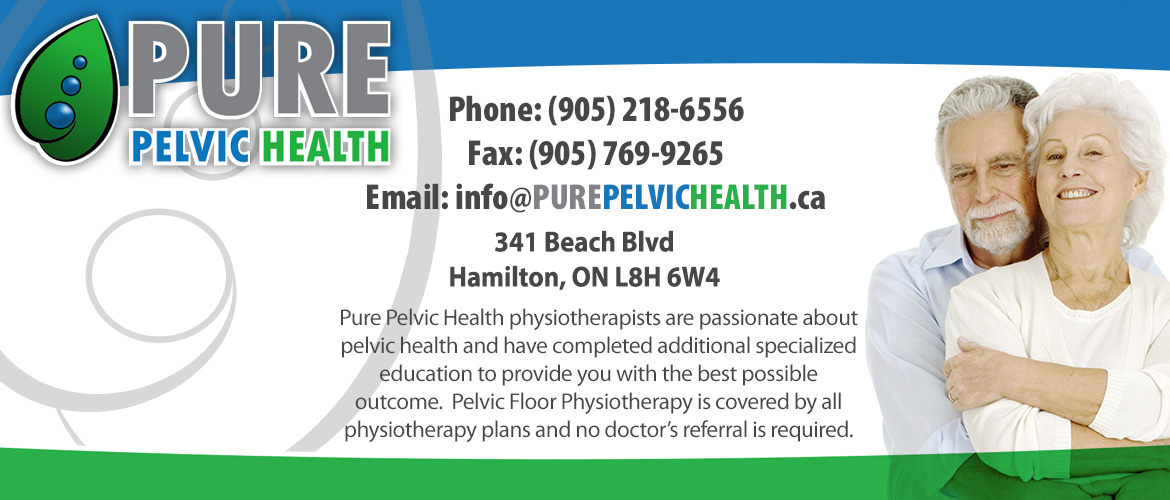 What is Pelvic Health Physiotherapy?
Pelvic health physiotherapy is the physiotherapy based treatment of common dysfunctions associated with the muscles and other soft tissues of the pelvis and surrounding structures.  Dysfunctions may include but are not limited to pain, sexual function, incontinence and pelvic organ prolapse.  Pelvic health concerns are very common in all genders and ages but are often not discussed due to shame or embarrassment.  Please do not suffer in silence; there are effective treatment options available.
When you choose Pure Pelvic Health for pelvic health or pelvic floor physiotherapy you will be seeing an experienced pelvic health physiotherapist.  Your physiotherapist is registered with the College of Physiotherapists of Ontario and has extensive additional training and education specific to pelvic health conditions.
During your first visit with Pure Pelvic Health, the pelvic floor physiotherapist will complete a physical assessment and an extensive consultation reviewing your past medical, social and pelvic health history.  She will ask you about your current areas concerns and dysfunction.  And, she will guide your conversation and ask questions to ensure she fully understands your pelvic health goals.  A plan for treatment and expected outcomes will be discussed at your initial visit.
Pelvic floor dysfunction is generally caused by hypotonicity or hypertonicity of the pelvic floor muscles.  More simply, dysfunction is caused by weakness or tightness of the pelvic floor muscles.  Weakness can lead to incontinence of pelvic organ prolapsed.  Tightness can lead to pelvic pain, painful sex, vaginismus, vulvodynia, bladder pain, endometriosis, urge and urge incontinence.  Identifying weakness or tightness or a combination of both is part of the initial physical assessment.  Your pelvic health physiotherapist will often suggest an internal exam to best identify specifically what muscles are causing your symptoms.  You can read more about why pelvic health physiotherapists do an internal examination here.
Pelvic health physiotherapy is very personal and can be both physically and emotionally difficult for the patient.  Pure Pelvic Health physiotherapists are well trained and experienced, sensitive, and committed to providing you with a safe and supportive environment.  Their services are inclusive and available to all patients who need the support of a pelvic health professional.